地铁、 公共汽车、电车及出租汽车将雅典及其市郊紧密相连。 在雅典交通廉价且有序,您可以方便地到达任何地方。我们向您推荐的雅典交通绝不会有延时,更不会让您感到疲惫不堪。
地铁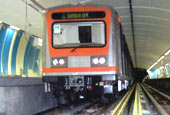 交通高峰期四分钟发一趟车,其他时间最长十分钟发一趟车(午夜至凌晨5:30地铁停开时段除外)
票价:
单程0.7欧元(在售票处或自动售票机均可买到)
单程限乘地铁2号3号线,1到90分钟内到有效。
日票2.9欧元(在自动售票机可买到)

24小时内有效,可换乘多种交通工具(地铁,公交,无轨电车,有轨电车等
周票10欧元(在自动售票机可买到)Weekly ticket price:€ 10.00 (available in ticket offices)
7日内有效,可乘多种交通工具(地铁,公交,无轨电车,有轨电车等),上车后一次使用有效
月卡35欧元(在自动售票机可买到)
全月均可使用,适用于城内各种交通工具(地铁,公交,无轨电车,有轨电车等)
说明:乘车前请检票,到达目的地前请保留好票根 ,必要时请向检票员出示票据或月卡
注意: 逃票或在检票处不出示票据者将被处以28欧元罚款
自动售票机实行现金交易(机器找零),可预订车票机票价格
Airport ticket prices:
单程票:8欧元
双程票(48小时内有效): 12欧元
双人团购:12欧元
三人团购 :16欧元
半票(18岁以下儿童及65岁以上老人): 4欧元
限往返机场的单程
有残疾人专用设施
BUS -TROLLEY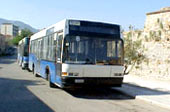 All over the region of Athens you can find, buses, min buses, thermal buses, and trolley. There is a very good network, enabling you to go almost everywhere.
Bus and trolley tickets are 0,45 € each and can be purchased at special booths and kiosks near the bus stops. Once you are on the bus or trolley, validate your ticket by asserting it into one of the orange-coloured meters for that purpose; the ticket will be punched and dated. Keep the ticket until you step off the bus, since it's not uncommon to have a ticket-control.
There is also the 24-hour ticket sold for 2,9 € with a validity of unlimited travel by all public transport modes (buses, trolley buses, metro). However it is valid for only one trip to or from the Athens International Airport "Eleftherios Venizelos".
TRAM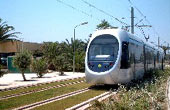 The most modern means of mass transit transports us quickly and safely to our destination, connecting the center of Athens with the southern suburbs. It begun operations in July 2004 and successfully transported all passengers during the Olympic Games, despite the limited adjustment time.
The Tram network connects the centre of Athens, through Nea Smyrni with Paleo Faliro and from there it branches out along the coastal avenue to Alimos, Helliniko and Glyfada on one end and to the Faliriko Delta, Neo Faliro and the Peace & Friendship Stadium on the other end.
Tickets are sold at the following prices:
€ 0,60 Full-price ticket
€ 0,40 Special ticket: for journeys of up to 5 successive stops in one direction, or for users transferring to the Tram system from all other public transport modes (bus, trolley, electric railway and metro) provided they retain the ticket used on the previous mode. That ticket must have been validated 90 minutes beforehand maximum.
€ 0,30 Discount ticket: for young people up to 18 years old and other persons with discounted fare entitlement
€ 1 Combined ticket: valid for 1.5 hour for combined use of any media of transport
€ 0,70 Combined ticket: valid for 90 minutes for combined transport by bus, trolley and/or tram
€ 10 Weekly ticket: valid for unlimited transport by all transportation means for 1 week since it is validated
TAXIS

Sometimes you wander in the streets of Athens and all you see is those yellow cars...Athens taxis. Let us tell you the truth about Athens cubs: They are relevantly cheap and easy to catch. You can normally pick them on the road at any time of the day but you can also call a radio taxi. Sometimes, taxis may be the only or, at least, the best transportation choice (when bus connections are inconvenient, in the small hours etc). However you may find yourself sharing a taxi with strangers... While this is illegitimate in principle, it is, unfortunately, an everyday Athenian little habit…



What you actually have to be aware of is the amount paid to the cub. So we will provide you with some tips:
If you have travel connections to make, it's a good idea to reserve a radio taxi (see below). When you get into a taxi, check to see that the meter is turned on and set on "1" rather than "2"; the meter should be set on "2" (double fare) only between midnight and 5am, or if you take a taxi outside the city limits
There are about 15 radio taxi companies in Athens; as their phone numbers often change, it's worth checking the daily listing in "Your Guide" in the Athens News.
Your hotel can make the call for you and make sure that the driver knows where you want to go.
Most restaurants will call a taxi for you without charge.
Keep in mind that it will cost around 35-45 € depending on the traffic to get you from the national airport to Omonoia Square, and a maximum of 15 € from Omonoia to Piraeus port.